Kia Picanto: Engine Control System / Engine Coolant Temperature Sensor (ECTS)
Specifications
▷ Type: Thermistor type
Temperature

Resistance (kΩ)

°C

°F

-40

-40

48.14

-20

-4

14.13 - 16.83

0

32

5.79

20

68

2.31 - 2.59

40

104

1.15

60

140

0.59

80

176

0.32

100

212

0.19

110

230

0.145 - 0.149

120

248

0.12

Description and operation
Located in the engine coolant passage of the cylinder head, the Engine Coolant Temperature Sensor (ECTS) is used for detecting the engine coolant temperature. The ECTS uses a thermistor whose resistance changes with temperature.
The electrical resistance of the ECTS decreases as the temperature increases, and vice versa. The reference +5V is supplied to the ECTS via a resistor in the ECM. That is, the resistor in the ECM and the thermistor in the ECTS are connected in series. When the resistance of the thermistor in the ECTS changes with the engine coolant temperature, the output voltage also changes.
During cold engine operation, the ECM increases the fuel injection time and controls the ignition timing based on engine coolant temperature to avoid engine stalling and improve drivability.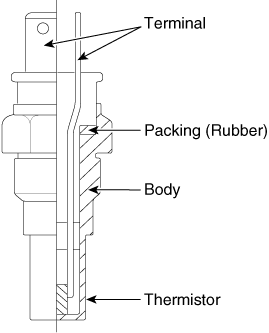 Schematic diagrams


Repair procedures
| | |
| --- | --- |
| 1. | Turn the ignition switch OFF. |
2.

Remove the ECTS.

(Refer to "Removal")
| | |
| --- | --- |
| 3. | After immersing the thermistor of the sensor into engine coolant, measure resistance between the ECTS terminals 3 and 4. |
4.

Check that the resistance is within the specification.

Temperature

Resistance (kΩ)

°C

°F

-40

-40

48.14

-20

-4

14.13 - 16.83

0

32

5.79

20

68

2.31 - 2.59

40

104

1.15

60

140

0.59

80

176

0.32

100

212

0.19

110

230

0.145 - 0.149

120

248

0.12




| | |
| --- | --- |
| 1. | Turn the ignition switch OFF and disconnect the battery negative (-) terminal. |
2.

Remove the air cleaner.

(Refer to Engine Mechanical System - "Air Cleaner")
3.

Remove the battery.

(Refer to Engine Electrical System - "Battery")
| | |
| --- | --- |
| 4. | Disconnect the engine coolant temperature sensor connector (A). |
5.

Remove the engine coolant temperature sensor (B).

Engine Coolant Temperature Sensor :

29.4 - 39.2 N·m (3.0 - 4.0 kgf·m, 21.7 - 28.9 lb·ft)
| | |
| --- | --- |
| • | Install the component to the specified torques. |
| | |
| --- | --- |
| • | Note that internal damage may occur when the component is dropped. If the component has been dropped, inspect before installing. |
| | |
| --- | --- |
| • | Apply the engine coolant to the O-ring. |
| | |
| --- | --- |
| • | Carefully insert the sensor into the installation hole without damaging it. |
| | |
| --- | --- |
| 1. | Install in the reverse order of removal. |
2.

Supplemment the engine coolant.

(Refer to "Engine Mechanical System - "Coolant")