Kia Picanto: Instrument cluster / LCD window control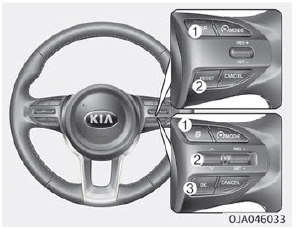 The LCD Window modes can be changed by using the control buttons on the steering wheel.
- Type A
1. TRIP : TRIP button for changing modes.
2. RESET : RESET button for resetting the selected item.
- Type B
1.

: MODE button for change the LCD MODES
2. ˄/˅ : MOVE scroll switch for select the items
3. OK : SET/RESET button for set the items or reset the items
❈ For the LCD modes, refer to "LCD windows" on page 4-50.