Kia Picanto: Sunroof / Sunshade, Resetting the sunroof
Sunshade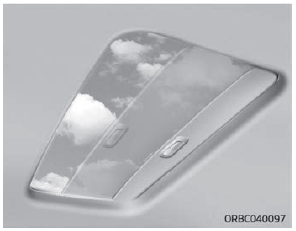 The sunshade will be opened with the glass panel automatically when the glass panel is slid. You will have to close it manually if you want it closed.
Resetting the sunroof
Sunroof needs to be reset if (in the followings)
- Battery is discharged or disconnected or the related fuse has been replaced or disconnected.
- The one-touch sliding function of the sunroof does not normally operate.
1. The ignition switch must be in the ON position.
2. Close the sunroof completely.
3. Release the control lever.
4. Push the control lever forward until the sunroof tilts and slightly moves up and down. Then, release lever.
5. Push the control lever forward until the sunroof is operated as follows:
TILT DOWN → SLIDE OPEN → SLIDE CLOSE
Then, release the control lever.
If the sunroof does not operate properly after resetting, have the system checked by a professional workshop. Kia recommends to visit an authorized Kia dealer/service partner.
CAUTION
If the sunroof is not reset when the vehicle battery is disconnected or discharged, or related fuse is blown, the sunroof may operate improperly.