Kia Picanto: What to do in an emergency / Tire Pressure Monitoring System (TPMS)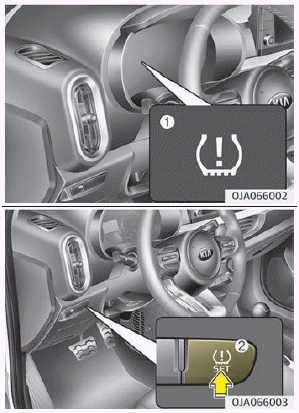 Low tire pressure telltale (1) / TPMS SET switch (2)
System Overview
The tire pressure monitoring system (TPMS) senses change in radius of the tire. If the tire pressure decreases below the recommended pressure, the system warning light will be illuminated.
For the system to function properly, it is the driver's responsibility to set the system by following accurate procedure and set current tire pressure.
The warning light will illuminate on the cluster when one or more of your tires is under-inflated after the TPMS is set. The warning light will also illuminate to warn the driver of system malfunction. Please refer to the above image (1) for further information.