Kia Picanto: Sunroof / Tilting the sunroof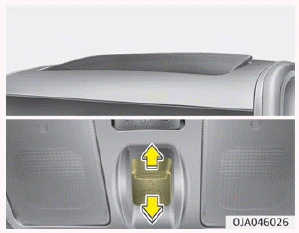 To open the sunroof, push the sunroof control lever upward until the sunroof moves to the desired position.
To close the sunroof, push the sunroof lever forward until the sunroof moves to the desired position.
WARNING
Make sure heads, other body parts or other objects are safely out of the way before closing the sunroof to avoid injuries or vehicle damage.
Never adjust the sunroof or sunshade while driving. This may cause loss of vehicle control resulting in an accident.
To avoid serious injury or death, do not extend your head, arms or body outside the sunroof while driving.
CAUTION
Periodically remove any dirt that may accumulate on the guide rail.
If you try to open the sunroof when the temperature is below freezing or when the sunroof is covered with snow or ice, the glass or the motor could be damaged.
While using sunroof for a long time, a dust between sunroof and roof panel can make a noise. Open the sunroof and remove regularly the dust using clean cloth.
The sunroof is made to slide together with sunshade. Do not leave the sunshade closed while the sunroof is open.