Kia Picanto: Rear parking assist system / Operation of the rear parking assist system
Operating condition
This system will activate when backing up with the ignition switch ON. If the vehicle is moving at a speed over 5 km/h (3 mph), the system may not be activated correctly.
The sensing distance while the rear parking assist system is in operation is approximately 120 cm (47 in.).
When more than two objects are sensed at the same time, the closest one will be recognized first.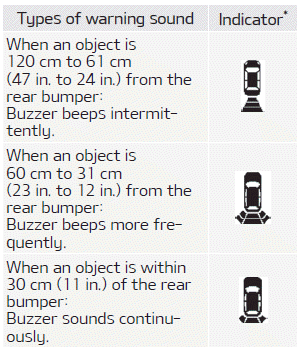 NOTICE
The indicator may differ from the illustration as objects or sensors status.
If the indicator blinks, have the system checked by a professional workshop. Kia recommends to visit an authorized Kia dealer/service partner.