Kia Picanto: Radar type autonomous emergency braking / System malfunction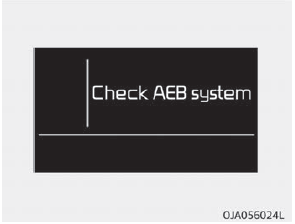 When the AEB is not working properly, the AEB warning light () will illuminate and the warning message will appear for a few seconds. After the message disappears, the master warning light () will illuminate. In this case, have the vehicle inspected by a professional workshop. Kia recommends to visit an authorized Kia dealer/service partner.
The AEB warning message may appear along with the illumination of the ESC warning light.
WARNING
The AEB is only a supplemental system for the driver's convenience. The driver should hold the responsibility to control the vehicle operation. Do not solely depend on the AEB system. Rather, maintain a safe braking distance, and, if necessary, depress the brake pedal to lower the driving speed.
The AEB may unnecessarily produce the warning message and the warning alarms. Also, due to the sensing limitation, the AEB may not produce the warning message and the warning alarm at all.
When there is a malfunction with the AEB, the braking control does not operate upon detecting a collision risk even with other braking systems normally operating.
The AEB operates only for the vehicle in front, while driving forward. It does not operate for any animals or vehicles in the opposite direction.
The AEB does not recognize the vehicle, which horizontally drives across the crossroad, or the vehicle, which is parked in the horizontal direction.
If the vehicle ahead suddenly stops, there is a risk of collision. The driver must always pay caution in case of dangerous situations.
In case of sudden braking when the AEB is activated, objects inside the vehicle may move and injure the occupants.
When the driver depresses the brake in a risk of collision, the AEB system may not operate.
The AEB may not operate due to driving or traffic condition, weather, and road condition.
The AEB may not operate in all vehicles.