Kia Picanto: Specifications & Consumer information / Refrigerant label, Declaration of conformity, Fuel label
Refrigerant label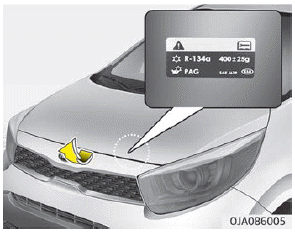 The refrigerant label is located on the underside of the hood.
Declaration of conformity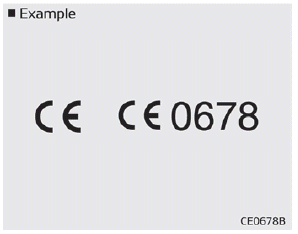 The radio frequency components of the vehicle comply with requirements and other relevant provisions of Directive 1995/5/EC.
Further information including the manufacturer's declaration of conformity is available on Kia web site as follows;
http://www.kia-hotline.com
Fuel label
Gasoline (Petrol) engine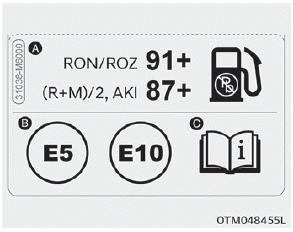 The fuel label is attached on the fuel filler door.
A. Octane rating of unleaded gasoline (petrol)
1. RON/ROZ: Research Octane Number
2. (R+M)/2, AKI: Anti Knock Index
B. Identifiers for Petrol-type fuels
❈ This symbol means usable fuel. Do not use any other fuel.
C. For further details, refer to "Fuel requirements" on page 1-03.